Per direct kunnen professionele bezoekers zich met "Spotlight – de premières en nieuwigheden van de FRUIT LOGISTICA 2019" op de toonaangevende vakbeurs voor de mondiale fruithandel voorbereiden. De FRUIT LOGISTICA vindt plaats van 6 tot 8 februari 2019 in Berlijn. 43 en daardoor meer dan de helft van de 83 gepubliceerde "Spotlight"-inzendingen zijn wereldpremières. Dat zijn er 20 meer dan vorig jaar. Deze duidelijke toename accentueert op indrukwekkende wijze de status van de FRUIT LOGISTICA als innovatieplatform. De 83 "Spotlights" zijn afkomstig van exposanten uit 18 verschillende landen uit vier continenten.
"De Duitse toename van de "Spotlight"-wereldpremières toont een continu toenemende belangstelling van de branche, van de FRUIT LOGISTICA als progressief forum gebruik te maken om haar premières en nieuwigheden aan de wereld voor te stellen", zegt Madlen Miserius, Senior Product Manager van de FRUIT LOGISTICA. "Spotlight" weerspiegelt samen met de FRUIT LOGISTICA Innovation Award, de Future Lab en de nieuw op touw gezette Start-up Day de innovatiekracht van de branche. "Spotlight" biedt gespecialiseerde en professionele bezoekers een boeiend kijkje achter de schermen van nieuwe trends en producten. Hierna enkele Belgische e Nederlandse hot-items:
Super sweet and deep purple
The vegetable seed breeding company Bejo is introducing Erasmus F1 (image), the first 100% male purple asparagus, at FRUIT LOGISTICA 2019. It can be cultivated in cold and medium-temperature climates. Fresh and unpeeled, it is ideal for salads, stir-fries or grilled. This super-sweet asparagus is best left uncooked to preserve the rich purple colour that can be lost during cooking. Due to its unique characteristics, Erasmus is positioned differently than the well-known green and white asparagus varieties and makes an interesting addition to the conventional asparagus assortment. Thanks to its sweet taste, it can be eaten raw – ideal for attracting the attention of younger consumers who like meals that are fast and healthy.
www.bejo.com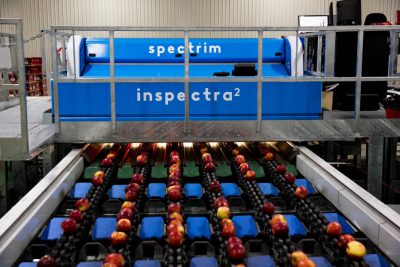 Longer shelf life and consistent high quality
The VSPO method (Vertical Single Plant Optimization) (image) was developed by an expert research team at Future Crops. This fully automated system supports plants grown in air-conditioned, multi-level buildings with special chambers. LED lighting and advanced technology ensure optimal conditions. Human intervention is minimized to reduce possible damage to the plants. A specially-developed automated robotic logistics process is integrated into the entire cycle: from cultivation to harvesting and packaging. Products grown in the VSPO environment have a much longer shelf life and consistent quality across the globe all year round. The vertical farm is optimized to meet the highest standards of hygiene and safety without the use of pesticides and to ensure product health and integrity.
Consistently and accurately evaluate external and interna
Following a highly-successful market launch last year, Compac, a member of the TOMRA group, announced the worldwide introduction of the Inspectra² internal inspection system (image) for fresh produce. Inspectra² was effectively implemented and improved fruit cleaning by 20%. In line with the interests of growers, this ensures that only the bad fruits are sorted out and the good ones kept for sale. Together with the award-winning Spectrim platform, Inspectra² can be used to classify external defects. Compac packhouses are now capable of consistently and accurately grading the external and internal qualities of apples, avocados, kiwis and citrus fruits at production speeds. External appearance is important for buyers' purchase decisions, but internal quality is critical for consumer satisfaction. Fresh produce should always taste as good as it looks. This is the main objective for Inspectra².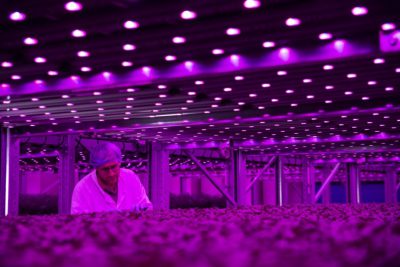 Rapid effect on growth and plant colour
DCM VISCOTEC® BLUE (image) is an innovative liquid fertiliser developed for controlled organic agriculture and horticulture. Its high concentration of 9% nitrogen and 5% potassium (K2O) has a rapid effect on plant growth and colour. The highly soluble, odourless gel formula contains no animal-based raw materials. It can be easily dosed and applied with all types of fertigation systems as a continuous supplemental fertiliser or a correcting fertiliser. The new liquid fertiliser also provides a biostimulator effect with plant-based amino acids to stimulate root system growth. The enlarged root surface increases nutrient absorption leading to better above-ground growth and more robust plants with a higher resistance to abiotic stress.
www.dcm-info.com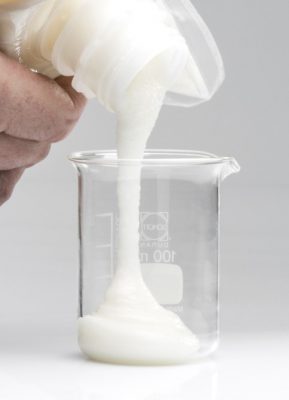 Automatic height measurement for correct coring depth
FRUIT LOGISTICA 2019 is where FTNON, a division of the JBT Corporation, is introducing its new SPD-200 system (image) for coring bell peppers. This more hygienic two-pocket system is easy to operate by one person manually placing two peppers into the machine at the same time. The height of the fruit is automatically measured to determine the correct coring depth. The drum that holds the peppers is open on one side, making it easier to clean the system. Adjusting the cutter in the segmentation station produces fruits cut into two, four, six or eight pieces. The blades are mounted a 3D printed holder and can be removed for producing hollow, whole peppers. One machine operator can process around 2,000 peppers per hour with the SPD-200. www.ftnon.com