As attested by their huge success at Mundus Vini 2020. Moldova has become the most awarded Eastern European country and 7th in the world, after competing with 7,500 wines from 45 countries at the 26th Grand International Wine Award Mundus Vini Spring Tasting 2020. Christian Wolf, director degustation Mundus Vini, describes Moldova as THE FRONTRUNNER!
"Wine of Moldova" country brand has doubled last year's record, bringing home 72 medals, including 35 gold medals, 1 Grand Gold and 2 Best of Show awards.
Special notice :
– Gran gold & Best of Show Moldova red is 2017 Saperavi
– Best of Show Moldova white is 2018 Chateau Cristi Chardonnay Barrel Fermented
– Fautor was declared the best producer from Moldova and obtained 8 medals.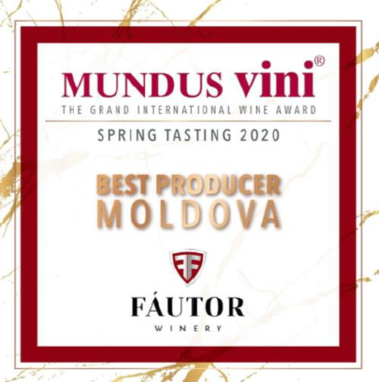 The winner is Saperavi (Best of show, 2017 Saperavi 2017 from Gitana Winery, Chisinau) ; besides, Feteasca Neagra wines gained the best appreciation from international judges, with 16 medals.
The authenticity and uniqueness of Moldovan wines is represented by indigenous varieties, which account for 10% of the vineyards: Feteasca Neagra, Feteasca Alba, Feteasca Regala, Rara Neagra, Viorica, etc.
The latest successes for Wine of Moldova come as the result of harsh recent efforts by the country with winemaking tradition dating back to 5000 BC to comply to western quality standards of wine.. In 2019, Moldovan wines earned over 800 medals at most reputed international wine contests, 300 of which were gold. Exports of Wine of Moldova grew up to 9%, reaching 157 million liters and heading to over 70 countries.
Based on the Geographical Indications schema, Moldova has established its first Wine Routes that include the world-famous wine cellars Cricova and Guinness World Record bearing Milestii Mici as well as other one-of-a-kind wine tourism sites, as highlighted recently by the famous travel portal Lonely Planet.
National Office for Vine and Wine (NOVW) is a public-private entity having as major objecties promotion of Moldovan wines under the brand Wine of Moldova. It is also empowered to implement state policies in viticulture industry of Republic of Moldova. www.wineofmoldova.com